Scierra Kaitum Wading Jacket
Scierra Kaitum Wading Jacket

This year we have been trying out alot of new products. Some we recommend. Others we throw in a wood chipper.
This one is a real winner!
The Scierra Kaitum Wading Jacket.

Normally I wear Frogg Toggs, but this jacket proved worth it's weight in gold during our trip to taltson Bay Big Pike Lodge near the Arctic Circle this past June.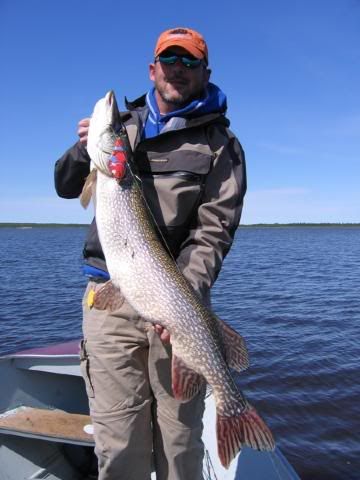 It may not look cold because I have a nice fish in my hands and my body was warm. But trust me, my hands were stinging with pain in 40 degree temps with 30 MPH winds.

-From the Scierra website-
The Kaitum wading jacket is based on a 3-layer wind and waterproof material with a breathability of 3500g/m2/24h and waterproofness over 20,000 mm. The main feature is the designer asymmetric; waterproof front zipper and large front pocket, which will fit a large fly box and more. The sleeves and elbows are special cut and articulated for ultimate casting performance.
The stylish, yet highly technical two-toned Kaitum wading jacket is designed to meet the demands of the dedicated fly fisherman.

Adjustable `storm hood´ with soft peak
Comfortable chin guard
Two fleece lined `hand-warmer´ pockets
Practical upper arm pocket for fishing license etc.
Roomy back pocket
Adjustable waist toggle
Soft Velcro adjustable cuffs
Sizes: S, M, L, XL and XXL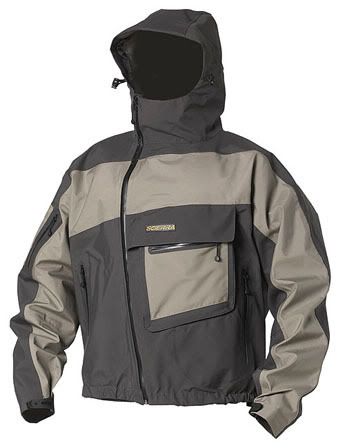 From what I have found online, the cost of this jacket is somewhere in the $250 (US) range. And that's not too bad for the amount of protection you get.
Plus...c'mon. It looks cool too!