Mike's ice report. 1-27-08
It's the Mike Kauchak Show!!

Hit the ice for about 3 hours Sunday and now that I think about it, it was more like 5 hours. Used waxies and golden roaches. Very slow compared to last time but then again there were 4 wheelers, snowmobiles and gators and kids running around so that didn't help.Did I mention that I hate 4lb test? Got broken off so many times including the first line I put in as the bobber was set up. 3 nice Gills, Christopher got the biggest and the rest was slow until right as the sun went down. I had switched to roaches on all lines and it was a blast. 6 nice bass all in the 13 - 16" range. Broken off at least 5 fish and they were slamming it. I thought fish moved slow in cold water. Holy crap. Next time I need to bring a flashlight as I had to quit since I couldn't see and they were still hitting.
Here's a photo of Christopher with a bluegill.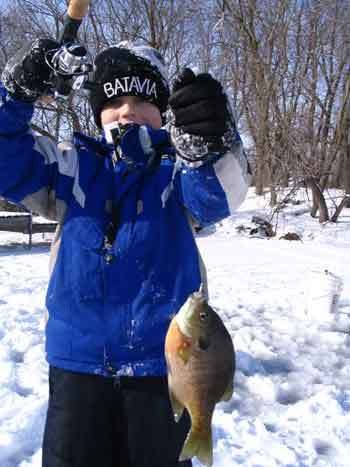 And in closing: Our Customfish Quotes of the day!
These come from one of our favorites.

"I care not what others think of what I do, but I care very much about what I think of what I do! That is character!"

"Speak softly and carry a big stick. You will go far."

"When you play, play hard; when you work, don't play at all."
-Theodore Roosevelt-